We custom manufacture every kit to meet your requirements. Just tell us what you need.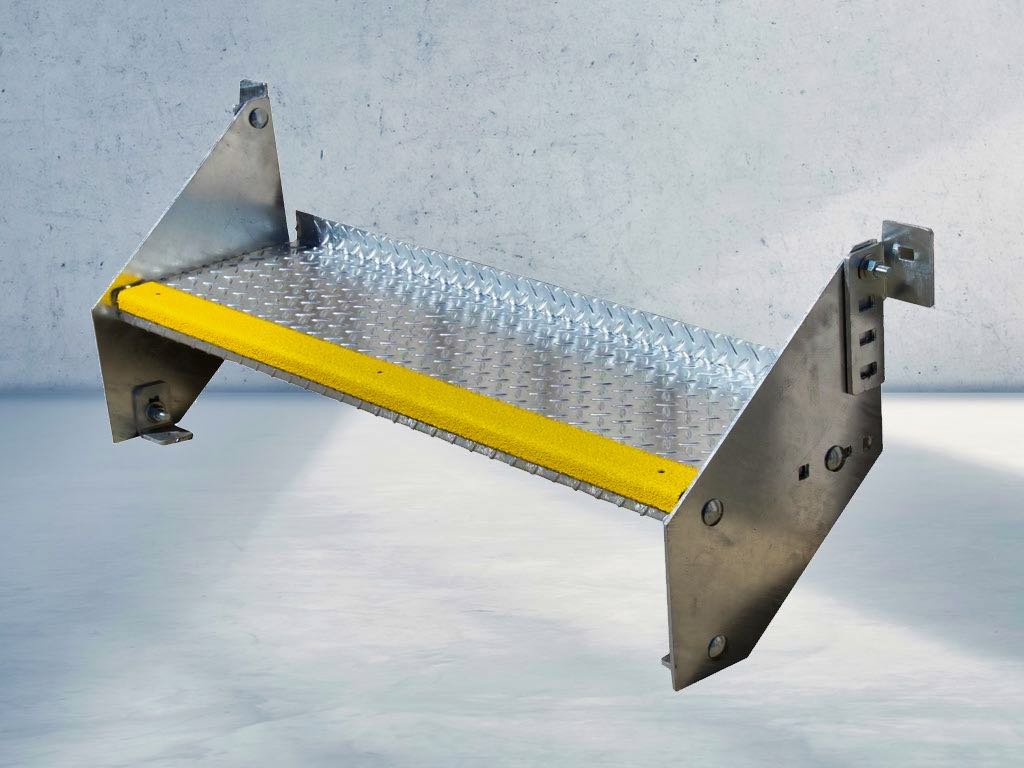 Need stair components for your build? We have every part you need. Or we'll custom build it.
We custom fold and cut for you with CNC Delem Control folding and Contour Cut Technology
Are You Installing Prefab Outdoor Steps?
Then we have exactly what you need! Our high-quality prefab outdoor steps are perfect for quick and easy DIY installation. But not only that, they are the most sturdy, durable and trustworthy stairs available on the market. At Advantage Industries we have perfected the art of quality flat pack stair assembly. We have been delivering quality stair products throughout Australia for over a decade and have never met a dissatisfied customer that wasn't one hundred percent happy with the outcome of their staircase. We provide an exact kit that corresponds to the dimensions of your site and ship it straight to you for quick assembly. It couldn't be easier.
Read More
Australia's Best Prefabricated Porch Steps
All of our prefabricated porch steps are available with yellow non-slip safety nosing strips to provide extra safety. Non-slip nosing strips are a requirement for staircases in both domestic and commercial situations in accordance with the Building Code of Australia. Our highly visible nosing strips are ideal in all applications especially wet or oily conditions due to the special non-slip abrasive coating. They feature:
High Visibility Yellow
Galvanised steel that will never rust or corrode
Extreme durability
UV resistance
We can also supply safety rails with our stairs. Advantage Industries' safety rails are the ideal rail system to complement your steel staircase selection and mezzanine floor. These safety rails are fully compliant with Australian Standards 1657, providing a strong, durable and maintenance free railing solution. Furthermore, safety rails can be used as railing for ramps, footpaths, mezzanines and walkways. All of our railings are composed of quality steel and hot dipped in galvanized zinc for protection. We can provide safety balustrade systems to accompany your steel staircase. Our safety balustrade systems are a strong, durable, maintenance-free solution which fully complies with Building Code Of Australia standards. Our balustrades are:
Constructed with quality steel
Comprised of welded panels
Hot dipped in galvanized zinc
Completely child safe
Industry-Leading Prefabricated Outdoor Steps
Every one of our customers has a different building configuration requiring careful and accurate measurement. That is why we customise each stair kit to the individual order. All of our products are designed and manufactured in our factory to specification. Then they are galvanised in molten zinc to protect the steps from degradation over time. Afterwards, they are flat packed and shipped directly to the customer along with for detailed assembly instructions for easy installation.
When it comes to prefabricated exterior steps Advantage Industries are the best option you will find. Just take a look at our range of stair products and accessories on our website and see our high level of workmanship for yourself. While you are there why not read through some of our satisfied customer testimonials too. If you're still not convinced, then we would love the opportunity to show you how we can deliver a quality, safe stair solution for a competitive price. Call us today and you won't be disappointed!
Here at advantageindustries.com.au we pride ourselves in making the finest quality stair kits and prefab staircase kits in Australia. We offer speedy delivery on all of our products Australia-wide. So, when you think about stair handrail kits, know that Advantage industries is a step above the competition.
Read Less
Get a Custom Quote on Your Prefab Stair Kit Today
Our promise
Why choose Advantage
Quality Steel Staircases. Easy to order. Packed flat and Shipped Fast.
Easier Ordering
We have designed our website and ordering process to be as easy as possible. Need help? Contact us
QUALITY AND SPEED OF BUILD
Just tell us what you need, and we'll get in touch soon to understand your situation and quote your build.
GreaT TRANSPORT AND support
We pack your completed staircase flat for faster, more competitively priced shipping. Bolt together on arrival.