We custom manufacture every kit to meet your requirements. Just tell us what you need.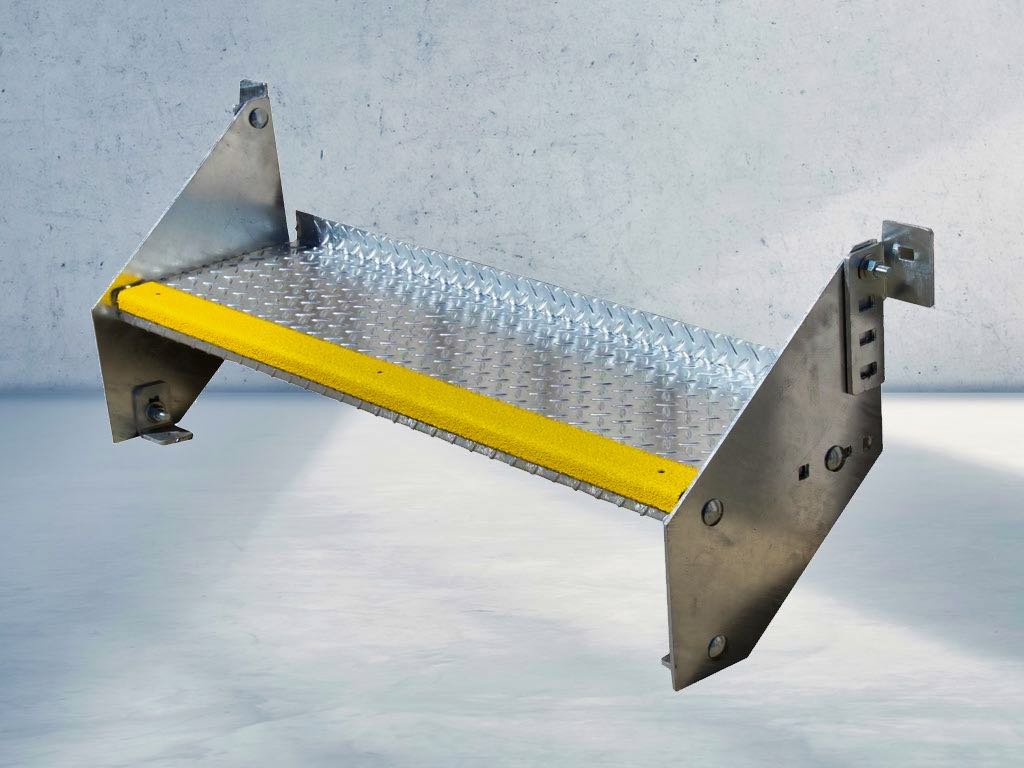 Need stair components for your build? We have every part you need. Or we'll custom build it.
Do You Need A Quality Steel Staircase?
If so, then look no further than Advantage Industries where you can find everything you need for industrial stairs tailor-made to your exact specifications and requirements. A staircase is a vital part of any building, be it residential or commercial. It is used numerous times in a day and needs to stay in top condition for decades. The staircase material should be comfortable, durable, cost-effective, and aesthetically appealing too. Only one material guarantees all these benefits – steel.
The Benefits Of Prefab Stairs
Our steel staircases provide the very best in durability, structural integrity and economy. Here's a look at some of the advantages you can enjoy from one of our prefab steel stairs:
Sturdiness – Steel is an alloy made up of iron and other materials. One of the major reason why structural steel is so widely used is that it is an extremely strong metal that holds up well in extreme conditions such as natural calamities and excessive weight. A structural steel staircase is almost five times stronger than concrete or timber staircases.
Durability – Steel staircases are made to last long. Steel doesn't corrode, rot, or expand over the years. It is also free from pests and other damages, unlike staircases composed of concrete or wooden. The high rigidity and sturdiness of steel make it the top quality material that can take any kind of impact and last for decades.
Prefabricated Industrial Stairs
Advantage Industries steel staircases are remarkably versatile. They can be moulded and customized into shapes and lengths to suit our customer's specific needs then assembled and fixed on site. Given the highly versatile and customizable properties of our prefabricated stairs, we can offer you different types of custom staircases for your shed, warehouse, factory, site office or any other building. If you are looking for the most cost-effective solution for your new stairs steel is your best option. When you consider its longevity, versatility, sturdiness and aesthetic appeal, structural steel is one of the most economical building materials. Furthermore, the process of structural steel staircase fabrication is also inexpensive as all the components like the stringers, treads, handrails and rails are all fabricated individually and delivered on-site on time and ready to assemble. We guarantee the entire process will save you a lot of labour expenses and resources and leave you with a superior product that is easy to maintain.
About Our Prefabricated Staircase Kits
There are plenty of benefits to ordering a custom steel staircase. They are an ideal stair solution for schools, offices, apartments, as well as agriculture sheds and industrial warehouses. Installing a steel staircase can provide a range of advantages that exceed those of traditional concrete and wooden staircases, which are commonly used in place of steel.
Read More
The Merits Of Choosing A Prefab Staircase Kit
Once a steel staircase is installed in your building, the value of the property will rise. Having a long-lasting, durable staircase that won't need to be replaced for many, many years is a plus in any building or home. Steel staircases are also an excellent option for emergency fire escapes as they bring an added level of security.
The advantage of a prefab staircase kits is that it is not susceptible to the elements in the same way that wood is. Wooden and concrete staircases suffer under high humidity and extreme temperature changes, this can compromise the integrity of the structure.
These issues do not affect steel staircases, as they don't need as much care as a wooden or concrete staircase as a result. Steel is also very easy to maintain and keep clean; this only adds to its appeal as a building material.
Cost is a large factor to be considered when selecting the right staircase for your building. When steel is chosen over other materials, customers can expect to reap the benefits of added durability and the average life of a metal staircase, due mostly to the nature of steel, making them arguably the most economical type of staircase available.
Flat Pack Prefab Stair Kits Keep Your Costs Down
As a customer, all that is required of you is to measure the height to deck distance for the intended stairwell and then we can produce a high standard staircase to fit your building. We will galvanise it flat pack it and then send it to you. Our prefab stair kits are extremely flexible and can be cut and manufactured to fit any building design at any size requested. Due to the high flexibility factor of steel, our staircases are incredibly easy to install, which keeps your construction costs low.
Buy From The Best, Don't Risk The Rest
Here at advantageindustries.com.au we pride ourselves in making the finest quality stair handrail kits and prefab stairs for sale in Australia. We offer speedy delivery on all of our products Australia-wide. So, when you think about steel steps suppliers, know that Advantage industries is a step above the competition.
Read Less
Get a Custom Quote on Your Prefab Stair Kit Today
Our promise
Why choose Advantage
Quality Steel Staircases. Easy to order. Packed flat and Shipped Fast.
Easier Ordering
We have designed our website and ordering process to be as easy as possible. Need help? Contact us
QUALITY AND SPEED OF BUILD
Just tell us what you need, and we'll get in touch soon to understand your situation and quote your build.
GreaT TRANSPORT AND support
We pack your completed staircase flat for faster, more competitively priced shipping. Bolt together on arrival.