We custom manufacture every kit to meet your requirements. Just tell us what you need.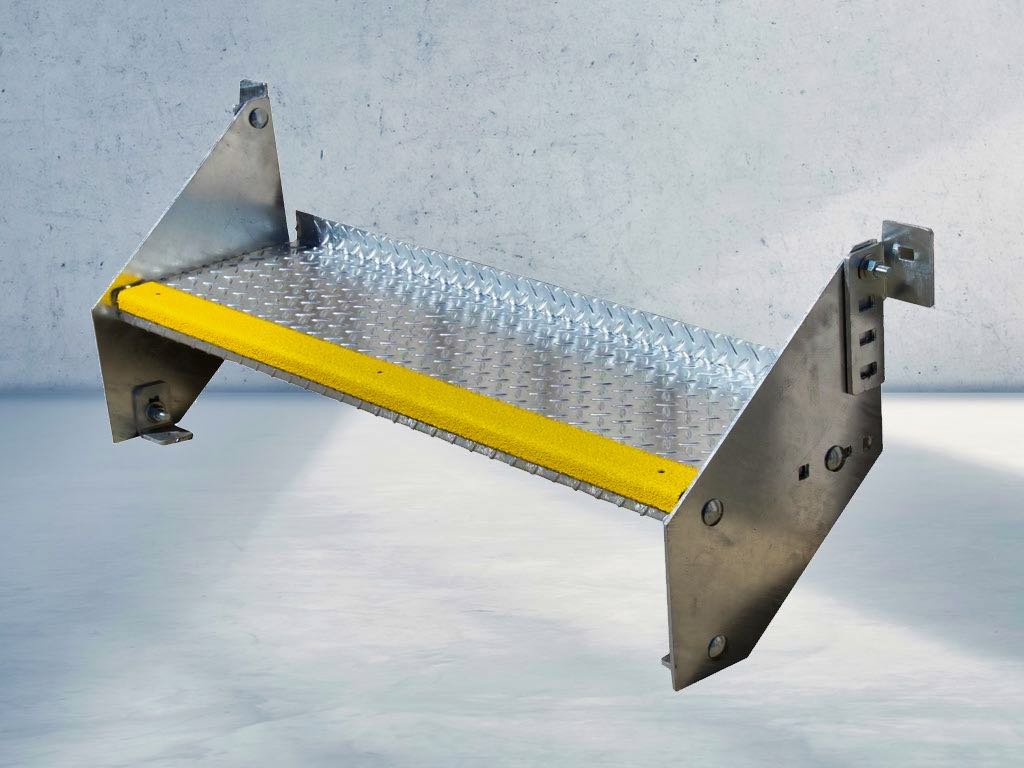 Need stair components for your build? We have every part you need. Or we'll custom build it.
We custom fold and cut for you with CNC Delem Control folding and Contour Cut Technology
Steel Stair Treads from Advantage Industries
Steel stair treads are crucial for upholding high safety standards on your staircases. At Advantage Industries (leading steel staircase supplier in Australia), we offer different steel stair treads that are either bolt-on or weld-on, so you can choose the ones that suit you best. Our stair treads meet the Australian building standards, so you can trust us in knowing you will receive a stair tread that fits and upholds what is required for your building.
Take a browse today to find your ideal stair tread and ensure you are continuing to uphold high safety standards.
Steel treads are a necessary addition to your staircases. The right ones can reduce the risk of slips and falls and ensure your staircase is as safe as possible. Whether you need to install a staircase in your home or workplace, safety should always be a priority.
Read More
Best Industrial Steel Stair Treads: Why Choose Advantage Industries?
At Advantage Industries we create staircases and all related equipment to high safety and quality standard. We provide our customers with stair treads that comply with building regulations and are easy and hassle-free to install. Our installations also add value to your buildings, making a worthwhile investment for the future. We also pride ourselves on our wealth of knowledge and can and will provide all of our customers with valuable advice concerning all things staircases when required.
We deliver all over Australia and can get your steel treads to you no matter where you are. In addition to this, our products are DIY friendly, so you can install your staircase yourself – should you have the basic carpentry skills of course.
Checker Plate Steel Treads
Advantage Industries Steel Treads are manufactured using high grade checker plate steel. Steel treads can be manufactured to suit your exact needs and requirements. Treads can be manufactured with return folds and different depths, widths and fold lengths. we can plasma cut the tread end plate in house to suit your drawings.
Checker Plate Treads
Double Down Folds are ideal to ensure water run off.
Front Fold Down/Back Fold Up are very common
Front and back folds can be customized
Width and depth of treads can be customized
3mm or 6mm thick checker plate
Supplied hot dipped galvanized or untreated
Welded end plates plasma cut to your specifications ready to 'bolt on'
No end plate options available for 'weld on'
Steel Stair Treads for Sale in Australia
If you've been looking for steel stair treads that meet your expectations in terms of quality and durability, you've come to the right place. Our stair treads meet the safety standards required for Australian buildings, keeping you and others as safe as possible. As well as being created to a high safety standard, our stair treads will last a long time and increase the value of your buildings. What's not to like?
To find out more, browse through our collection of stair treads to find the ones that best suit you and your needs. If you have any questions, please don't hesitate to get in touch. We would be happy to answer any questions and have a wealth of knowledge and advice behind us.
We also supply stanchion posts and anti slip nosing for your staircase needs.
Read Less
Get a Custom Quote Today
Our promise
Why choose Advantage
Quality Steel Staircases. Easy to order. Packed flat and Shipped Fast.
Easier Ordering
We have designed our website and ordering process to be as easy as possible. Need help? Contact us
QUALITY AND SPEED OF BUILD
Just tell us what you need, and we'll get in touch soon to understand your situation and quote your build.
GreaT TRANSPORT AND support
We pack your completed staircase flat for faster, more competitively priced shipping. Bolt together on arrival.