We custom manufacture every kit to meet your requirements. Just tell us what you need.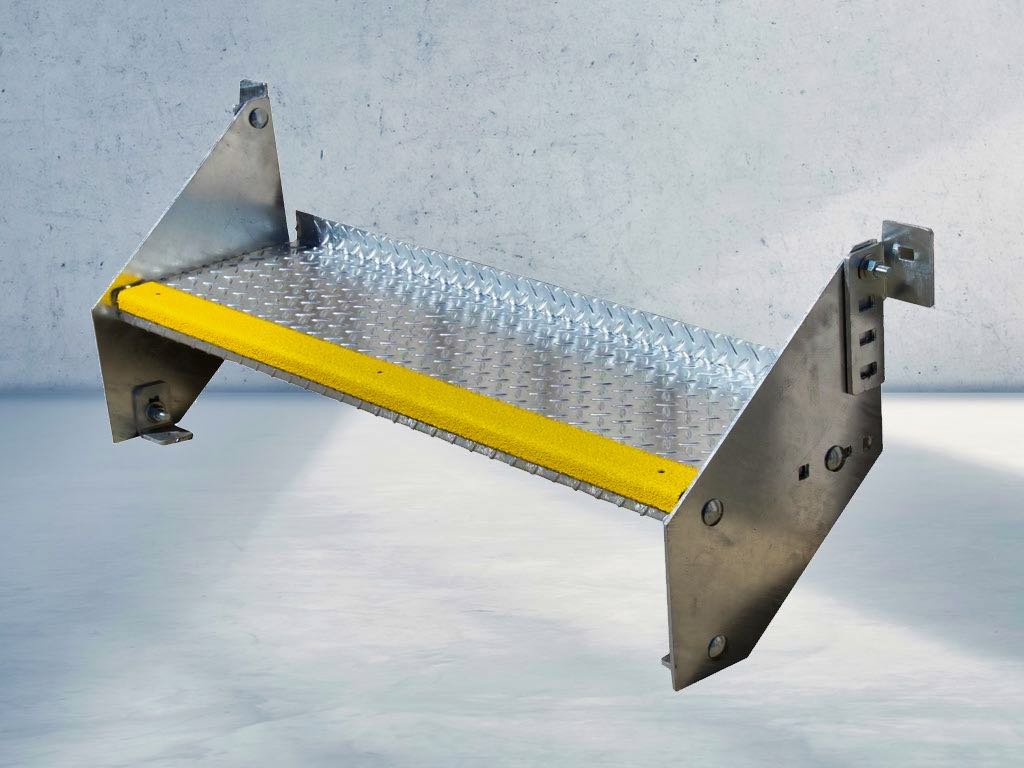 Need stair components for your build? We have every part you need. Or we'll custom build it.
We custom fold and cut for you with CNC Delem Control folding and Contour Cut Technology
Having Trouble Finding The Right Steel Step Supplier?
Then allow us to help you out; you've just found them! Advantage Industries is miles ahead of other steel steps suppliers when it comes to steel stairs and steel stair accessories. We custom manufacture quality solutions to suit your specific needs and deliver straight to your door. In a nutshell, we take care of all of the hassle involved in stairwell construction by sending you everything you need to install your ready-made steel steps.
Read More
Industry-Leading Steel Steps Supplier
Steel is truly one of the most versatile and practical materials to use when building – especially for modern staircase construction. Here are some benefits of choosing a steel staircase over other materials.
Steel has extremely high tensile strength. It is an alloy, usually made up of extremely strong materials such as iron ore and carbon. It is as sturdy as you can get when it comes to building materials and require little to no maintenance. Steel is non-combustible and won't rot like wood. Bugs and insects such as termites have no appetite for steel. In fact, there are almost no elements which can threaten steel's integrity – not wind nor fire or gale force winds. For peace of mind, you can always count on steel.
We Supply Steel Steps to All of Australia
One of the greatest factors contributing to global warming in the modern age is the large-scale felling of trees across the globe. Large wooden staircases can require large quantities of lumber, whereas a one-hundred percent steel composed staircase requires none. Wooden staircases are also almost entirely non-recyclable. Steel, on the other hand, is one of the world's most recycled materials, with a global recycling rate of over sixty percent. By choosing a steel staircase, you are directly contributing to the fight against global warming and we are proud to help you do your bit for the planet.
Despite its many advantages, steel is actually quite inexpensive especially when you consider its long-term benefits, its reliability and its sturdiness. Building a staircase with steel can save you a small fortune as manufacturing of steel isn't cost-intensive, and because building with steel takes considerably less time than building with other materials, it will save you money on labour hire. Steel will also last you a lifetime, increasing the value of your home or business if you ever opt to sell.
Australian Steel Steps Suppliers
At Advantage Industries we are proud to be the number one Australian steel steps supplier. We are passionate about providing effective steel stair solutions that last and positively impact the surrounding environment. We have enjoyed over a decade of designing, manufacturing and installing the very best staircases available and with the support and word of mouth of our satisfied and loyal customers, we hope to enjoy more years yet continuing our great service. Our full range of stair products is available on our website where you can also request a quote according to the specifics of your particular stairwell location. Equally, you can call us today and speak to one of our dedicated customer service team members who will be delighted to help you find what you need.
Here at advantageindustries.com.au we pride ourselves in making the finest quality prefab steel staircases and stairs handrail in Australia. We offer speedy delivery on all of our products Australia-wide. So, when you think about steel stair kits, know that Advantage industries is a step above the competition.
Read Less
Get a Custom Quote Today
Our promise
Why choose Advantage
Quality Steel Staircases. Easy to order. Packed flat and Shipped Fast.
Easier Ordering
We have designed our website and ordering process to be as easy as possible. Need help? Contact us
QUALITY AND SPEED OF BUILD
Just tell us what you need, and we'll get in touch soon to understand your situation and quote your build.
GreaT TRANSPORT AND support
We pack your completed staircase flat for faster, more competitively priced shipping. Bolt together on arrival.